Market Analysis
published on Oct 30, 2017
Report Overview: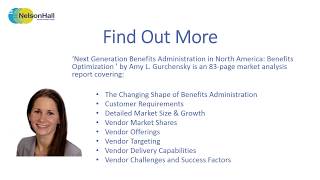 Watch video
NelsonHall's market analysis of the North American next generation benefits administration industry and trends has a focus on benefits optimization and consists of 85 pages.
Who is this Report for:
NelsonHall's "Next Generation Benefits Administration in North America: Benefits Optimization" report is a comprehensive market assessment report designed for:
Sourcing managers investigating sourcing developments within benefits administration
Vendor marketing, sales and business managers developing strategies to target BPS service opportunities within benefits administration
Financial analysts and investors specializing in the IT services and benefits administration sector.
Scope of this Report:
The report analyzes the North American market for benefits administration services and addresses the following questions:
What are the top drivers for adoption of benefits administration services?
What are the benefits currently achieved by users of benefits administration services?
What factors are inhibiting user adoption of benefits administration services?
What is the average contract length for benefits administration, and how is this changing?
What pricing mechanisms are typically used within benefits administration and how is this changing?
What is the market size and projected growth for the North American benefits administration market overall, by geography, and by service line?
Who are the leading benefits administration vendors in North America and by service line?
What combination of services is typically provided within benefits administration contracts, and how is this changing?
What is the current pattern of delivery location used for benefits administration, and how is this changing?
What new developments have occurred in the last year and how is this changing?
What are the challenges and success factors within benefits administration?
Key Findings & Highlights:
The current benefits administration market is largely characterized by organizations seeking best-in-breed suppliers, with technology developments largely centered on helping employees become more effective consumers (i.e., consumerization era). However, developments around the participant experience have begun to shift to focus on utilization (i.e., benefits optimization era).
There are three optimization approaches:
"Health and wellness" optimization: a convergence of major medical and supplemental benefits to help participants utilize the appropriate mix
"Financial wellness" optimization: helping participants with financial issues beyond retirement preparedness, such as budgeting, debt management, etc.
"Health and wealth" optimization: showing the effect that an individual's benefit choices has on their take home pay or combining retirement savings with health to provide a broad, holistic view.
Current developments have been focused on the narrow optimization approaches (i.e., "health & wellness" optimization and "financial wellness" optimization). To date, developments around "health & wealth" optimization are immature.
Top drivers for benefits administration in North America include reducing or controlling costs, modernizing technology and tools for both the plan sponsor and participants, and reducing/eliminating the burden of administrative duties. Whereas the top inhibitors include frozen decision-making within the prospect organization, a desire to maintain the status quo (either in-house or with incumbent provider), and competing priorities within the prospect organization.
Login to get full access: